SLIPORAMA: Stephanie Lanter + Kyle Johns
Back to events
Wesleyan Potters Pottery Studio
350 South Main Street, Middletown, CT 06457
$35 / Person. Please call the Office to register: 860-347-5925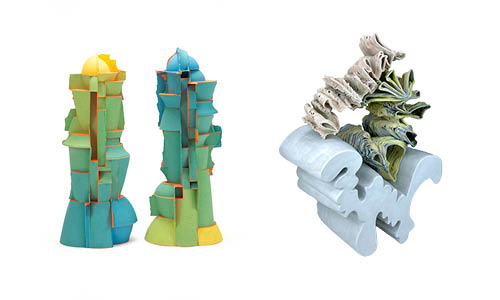 Schedule of events:
- Artist slide talks - please come with questions!!
- Potluck lunch (bring a dish to share)
- Side-by-side demonstrations of alternative approaches to using slip to make vessels & sculptures.
SLIP is a familiar part of the ceramic-making process, traditionally used for joining and surface decoration. But what happens when slip becomes the star of the show? Enter ceramic artists : HAS Assistant Professor of Ceramics Stephanie Lanter and Wesleyan Potters Artist-in-Residence Kyle Johns. Each has honed their unique approaches to using slip to construct their ceramics, both functional and sculptural. You are invited to the Wesleyan Potters ceramics studio where Stephanie and Kyle will give artist talks and side-by-side demonstrations.
You will learn Stephanie's method for transforming line drawings and patterns into sculptural forms, jewelry, and vessels using porcelain paper slip and plaster, and how to emphasize the resulting texture with underglaze and glaze. Explore the possibilities of harnessing flow through low-tech layering by hand and improvisation with fired shards. Witness the organic outcomes of Kyle's deconstructed mold-making process and how play, variation, and color can lead to endless possibilities. Consider clay in a whole new way and gain inspiration and practical knowledge on how you can use slip to great success in your own studio practice.
The Wesleyan Potters Artist Residency program is funded by CT Humanities. We thank them for their generous support!